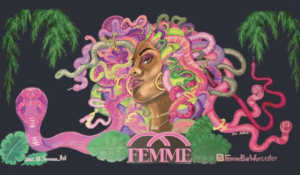 A new pre-roll on the market in Massachusetts has the potential to provide relief to people living with painful reproductive conditions like endometriosis — and bring a new spark to women's sex drive.
This collaboration by Major Bloom and Femme Bar is deeply personal to Femme owner Danielle Spring, who has endometriosis and long struggled to find remedies to ease her symptoms. 
"So many of us have endometriosis but we don't talk about it enough," says Spring. "The only thing that helped ease my pain was smoking weed."
Spring met Major Bloom President Ulysses Youngblood shortly before she opened Femme with her wife Julie Toupin Spring earlier this year. Quickly, the two businesses realized that together, they could create a truly unique product. Youngblood had been waiting two years to find the perfect partner for an herbal joint. Their collaboration, featuring purple diesel cannabis and raspberry and damiana leaf, is now for sale at Major Bloom.
"Femme is a place where everyone can be their authentic selves. It was important for Major Bloom to collaborate with another business that values and supports our community," says Youngblood.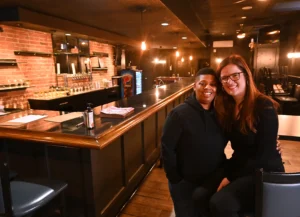 Endometriosis is diagnosed in 1 in 10 people assigned female at birth, according to the World Health Organization. That's 190 million people globally. It's a chronic disease in which tissue similar to the lining of the uterus grows outside the uterus, usually causing severe pain, abdominal bloating, nausea, fatigue, and, sometimes, infertility. While determining which plants would be in the pre-roll, Spring found studies that indicate some herbs provide antioxidant, sedative, and pain-alleviating properties that benefit people with endometriosis. Raspberry leaf has been shown to have both stimulatory and relaxation effects on the uterus. Additionally, studies have shown that damiana leaf can improve sexual satisfaction.
"This joint is really on brand for who I am and what Femme stands for," says Spring. "It's about healing the female body and sex drive. Femme is a lesbian space first, so I felt like it made sense to create a joint that caters to women in an industry that's largely male-dominated."
The joints contain a lower dose of THC at 10.2%, providing a more chill and mellow high. Youngblood says the herbs provide a tea-like flavor with each pull. The pre-rolls come in a pack of five 2.5-gram joints and retail for $15. 
They're packaged in a mylar bag — something Major Bloom uses frequently as a nod to street culture — that includes an image of Femme's signature mural of a confident Medusa-like woman, sporting gold jewelry and neon snakes for hair.
The mural, by local artist Jennessa, is a likeness of Spring's late sister, Dianté Spring, who died unexpectedly in March 2022.
"My sister was secretly queer and loved the idea that Julie wanted to open this bar. I hated the idea," Spring recalls. "Every day they asked me to open it. When she passed, I decided to pay homage to her by moving forward on this journey."
Jennesa surprised Spring by painting a precise replica of Dianté's signature earrings and necklaces in the mural. The artwork ensures Spring that her sister's spirit is in the bar every day.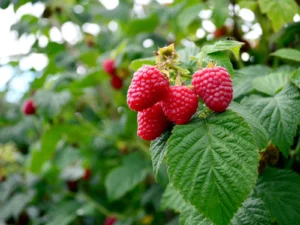 Major Bloom and Femme are located in Worcester's burgeoning Canal District and Green Island neighborhoods. Consumers 21 and older can pick up the pre-roll at Major Bloom and walk a short distance across Worcester's Kelley Square to Femme.
"It's always so fun to walk down to Femme and experience the vibe. It's a dope spot and it's an honor to be in the same neighborhood," says Youngblood. 
Femme is an uplifting space for the queer community and allies with superb cocktails, food, and community events. It opened on Green Street in early 2023. Major Bloom opened in summer 2021 on Millbury Street, determined to keep elements of traditional cannabis culture alive in the regulated weed industry. Both businesses are Black-owned. 
The pre-rolls are in beta mode and Youngblood invites customers to provide feedback in the store or on social media.
The businesses formally launched the pre-rolls during a block party at Femme on Saturday, Sept. 9, amid Worcester Pride Week.