In a world where plenty of dispensaries look like the Apple Store — polished but blandly sanitary — Major Bloom places a refined focus on serving the traditional weed-smoker. This effort feels surprisingly unique in the current industry and resulted in Major Bloom's production of more than 400 finished goods last year. 
Surely this includes the expected products — Major Bloom processed more than 200 cannabis Flower, Blunt, and Pre-roll strains in 2022.  But it also infused the street's favorite treats: cannabis edibles, cereal bars, and hot sauce. 
In Worcester's Green Island neighborhood, the company contributes to economic growth. Its business model fuels the idea of economic equity, and when exercised, the output demands product innovation. Having vertical licenses in its operations provides space for adjacent and transformative functions next to its core revenue, retailing weed. The company's vaporizer and oil lines are next up as market-leading menu selections for its patrons.
A Cultivator or Manufacturer will produce 20 to 30 products or strains annually. A Retailer will carry between 20 and 50 strains for customers. Some cultivators starting a new grow facility could have more than 100 unique strains. The difference between most cannabis producers and Major Bloom is the primary use of its processing power to feed the needs of traditional weed smokers. 
Major Bloom's innovative business models power its manufacturing and processing operations. Because the company has direct access to legacy smokers as its customers, it's agile with innovation and culture. This has resulted in partnerships with iconic brands such as Paul Pierce's The Truth 34, Gary Payton's Payton's Place, and Legendary Jam Master Jays, which will be hitting dispensary shelves again by the end of summer. Jam Master Jays has nostalgic cassette packaging with four kief-infused Sour Diesel pre-rolls inside. With its partnership reach, the solid core business of retailing weed, adjacent functions of flower, blunt, pre-roll processing, and delivery, the company's next transformative and innovative step is its continuous creation of emotional, informative, and entertaining media for the legacy community and cannabis consumers at large.
Market and competitor research indicates Major Bloom is among the leading distributors of flower, blunts, and pre-rolls in Massachusetts because of its ability to process bulk material and create finished goods while integrating custom strain art and in-house graphic designs into packaging. This business model sets Major Bloom apart, providing value through top-quality, economically-priced product variety and an intangible yet emotional art experience. Additionally, with a $100 minimum order size, residents that live in Worcester or surrounding towns can enjoy the pleasant experience of weed delivery straight to their door for free.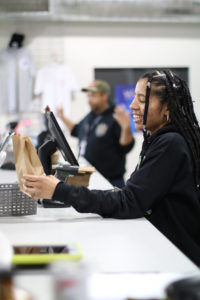 The company has an Economic Empowerment Certification and Minority Owned business status with the state. The Economic Empowerment Program, launched in 2018, prioritizes review for businesses demonstrating they can promote economic empowerment in areas disproportionately affected by high arrest and incarceration rates for drug offenses. Its demonstration comes from hiring practices, diversity plans, and contributions to local communities, non-profits, and neighboring businesses. Minority Business Enterprises (MBEs) in Massachusetts are owned and operated by individuals from minority groups, such as African Americans, Hispanic Americans, Asian Americans, Native Americans, and women. Massachusetts has implemented programs like the Supplier Diversity Program (SDP) to promote MBEs and facilitate their growth. These initiatives aim to enhance diversity, job creation, and economic development in Massachusetts. 
These programs align with the core of the business model because Major Bloom is black-owned and believes a large contribution to reversing the harms of prohibition is through diversity in the industry and being present in these communities impacted by drug arrests.
Interesting In More Information Like This?
Join our Community!