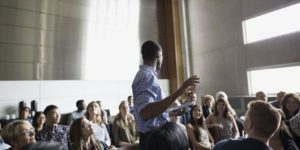 Tradeshows are rich in tradition, predictable yet exciting, and fun. If you've been to a tradeshow in repeat years, you know it's almost like a high school reunion. According to The NCIA's Northeast Cannabis Business Conference website, as a business-to-business (non-customer) event, their goal is to convene industry experts and professionals to learn about emerging regional-specific regulations, market trends, and advocacy efforts.
You might think the NCIA is a cannabis conference that is about business, not gimmicks, or about who can smoke the most weed. Since the industry is far behind the culture, the so-called "experts and professionals" are often not the ones who were impacted by prohibition or lived in targeted communities, arrested and jailed for cannabis. People from those communities are underrepresented at these conferences.
"Drugs have been the top reason people have been arrested in the United States for at least the past ten years, and marijuana has been the top drug involved in those arrests."
From an article in the New York Times, a large percentage of drug arrests have been for possession involving small quantities. In other words, the low-income and communities of color which are targeted by law enforcement do not have drug king-pins as residents.
No matter what industry you work in, there is that yearly, quarterly, or even monthly conference in which your organization is preparing to attend. These conferences showcase accomplishments and progression in your market place. The leaders in the industry will have a mixer or after-hours party to celebrate new heights of the organization, which includes drinks, passing out business cards, laughs, and a few speeches from semi-important people. Some of these after-hour events are invite-only, or you pay to attend.
But during the conferences, many speaking sessions are open to conference participants to listen and learn ideas regarding specific topics. Unlike an after-hours party, it is unusual for a speaking session, during the conference, to be closed off or not open to the general attendants, especially when not advertised as such. Welcome to The NCIA's Northeast Cannabis Business Conference Illicit Market Summit Session on Wednesday, February 20th of 2020, in which the experts on the subject were state officials, members of law enforcement, minority business organizations, and reps from big cannabis corporations.
The conference organizers decided not to allow members of the press and media to sit in on this particular session. Before the Illicit Market session started, sources report members of the media were unwillingly escorted out, as requested by some of the panelists, either by state officials or law enforcement. Why wasn't the press allowed to listen and hear new ideas on the illicit cannabis market, you might ask? One panelist stated they wanted to create an environment for everyone to share their opinions openly, without being recorded.
The former head of Boston Police Department Ed Davis says Police' are confused' about their role in the legalization of marijuana.
On the evening of the media lockout, my company, Major Bloom, alongside the first dispensary slated to open in Boston (Pure Oasis), and Minorities for Medical Marijuana, sponsored an event in Mattapan Square. The event (footage coming soon) hosted by my business partner Laury Lucien, a highly skilled and talented cannabis lawyer. The event was powerful. With an infectious passion for teaching, Laury thoroughly broke down the legal history of cannabis, where law enforcement and media play an essential role in where we are today.
If you are unfamiliar with the Mattapan part of Boston, it is a black neighborhood and has been one of the communities law enforcement has targeted for many years. The attendants were mostly people of color who live in the area. After the event, I smoked a couple of joints, while the Boston Police were in action, arresting two suspects for an armed robbery. Five Police cars whiz by as we blow down our weed. Although there was an actual crime with a real victim and a few suspects, we can't help but point out that black neighborhoods have been over-policed by officers that are not from those neighborhoods. Many statistics prove that there are real disparities.
Solutions for Disparities and Law Enforcement
"Police didn't write the laws and never intentionally targeted marijuana,"
Ed Davis stated, blaming politicians and lawmakers. If police officers are confused about how to handle marijuana possession, the solution is simple — let it go. Stop arresting people for marijuana. That is it.
Imagine when marijuana becomes federally legal, now police officers have time to solve real problems. Tax revenue from marijuana should not "beef up" police vehicles, guns, armor, or longer work hours. Any marijuana tax revenue that goes towards police departments can focus on community policing in areas that have been impacted by prohibition.
A vision for unarmed police on bikes or foot, guiding addicts through rehabilitation, and ensuring safety for the elderly. My dispensaries tax dollars are in support of community policing efforts that physiological mend decades of distressed impact, not target low-level marijuana illicit activity.